5 Negative Effects Of Social Media On Your Mental Health
Update Date: May 18, 2016 06:25 AM EDT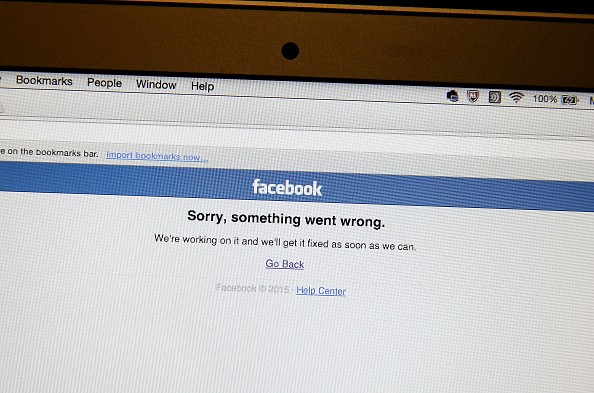 NEWARK, NJ - SEPTEMBER 28: In this photo illustration, an error message appears on the Facebook home page on a laptop computer screen on September 28, 2015 in Newark, New Jersey. For the second time in a week Facebook has experienced and outage. The first outage lasted 10 minutes (Photo : (Photo illustration by Justin Sullivan/Getty Images))
Most people have become personally invested in their social media life that they haven't kept an eye that it has slowly spiraled their mental health issues.
Below are the most common concerns that play pivotal roles in one's psychology.
1.) Self-doubt
With most of the social media galvanized by an unending bombardment of self-important subjective proclamations of relationships statuses, job promotions, weekend getaways, and vain-glorious selfies - it gives one a perpetual recap of your own life's lack of inactivity which results in the growth of self-doubt.
These idealized versions that are being shoved down one's throat can lead an individual to equate their own life for an unhealthy source of comparison.
2.) Too many diversions
Social media decreases our productivity as endless hours are being held hostage in order for a person to be continuously in the loop with friends and acquaintances.
Instead of accomplishing something productive in real life, some individuals would rather want to delay their workload in order not to miss out on the latest funny videos and the lives of other individuals online that ran like a noontime soap opera.
Research has shown that our brains don't have the capability to fully concentrate on two things at once, which promotes multitasking which causes our brain to quickly switch from one task to another.
This hinders information processing and productivity.
3.) Social media is addicting
More than 40% of Americans log on to Facebook numerous times each day as a valid excuse to relieve the boredom.
However, what most people craved for are the interactions generated by "likes" and "comments" from one's post as it gives them a positive reinforcement. These supposed to be short-lived interactions gives individuals a sense of importance which becomes a daily hunger needed to be stipulated.
It has reached the point where some schools and workplaces have blocked social media from their Wi-Fi. However, these efforts are easily circumvented thanks to the popularity of Facebook unblocker tools such as VPN services.
4.) Social Anxiety
With the influx of communication with others behind the comfort of computer screens, this creates a setback in the real world especially for people suffering from social anxiety
Too much social media usage can also trigger further one's fear of being alone as much as it increases the anxiety levels of other individuals in communication with others.
5. Cyber Bullying
Most users of social media are critical in nature thus, a certain demographic of users have created a haven for themselves on the internet as being cyber bullies while hiding behind their computers.
These bullies have isolated themselves from the effect that their cursive words have on their victims.
See Now: What Republicans Don't Want You To Know About Obamacare
© 2017 Counsel & Heal All rights reserved. Do not reproduce without permission.